If you can say "She tried to kill me, luckily the police showed up"-You can get on TV!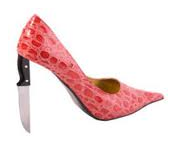 Just emailed in from our confidant in the industry J.R.:
"Casting Call: A new, untitled series for a major cable network is seeking people who have been on a real date from hell that ended in criminal charges. Examples might include you escaped your date's violent attack or your date's ex broke in on you resulting in a death.  The show is looking for real stories that are cautionary tales or against all odds survival stories.  The cases featured in the program will be verifiable, investigated and adjudicated in a court of law.  If you or someone you know has been through this type of date from hell, please send stories to: BADDATESCASTING@AOL.COM and include the name of the daters, names of additional persons involved in the incident, location of the date and when it occurred, describe the crimes that occurred (murder, kidnapping, robbery, etc.), describe how the daters met, any links to news stories concerning the case and your contact information (phone and email).  All submissions are kept discrete and confidential."
KLASSY.  We love the last line, "All submissions are kept discrete and confidential."  We guess they forgot to include UNTIL WE PARADE YOUR SHAME AROUND on BASIC CABLE.  God speed people!